日志
Transcending Borders: Asia, Middle East, and the Global Community

2009 Biannual International Forum on Asia-Middle East Studies
Transcending Borders: Asia, Middle East, and the Global Community
October 16-17, 2009, Annapolis, Maryland, U.S.A.
While the United States was deeply involved in negotiating peace between Israel and the Palestinians and fighting terrorism in Iraq and Afghanistan, countries in East Asia and Southeast Asia have been quietly developing frequent economic, political, and cultural interaction with the Middle East. Countries such as China and Japan pay close attention to the Middle East because of their strong ties to the region. Indeed their roles in the Middle East have become so prominent that they should be acknowledged and closely observed. The "Transcending Borders: Asia, Middle East, and the Global Community" conference, hosted by the U.S. Naval Academy's Center for Middle East and Islamic Studies, U.S. Asian Cultural Academy, the Shanghai International Studies University, and the Library of Congress Asian Division, aims to provide a platform for western and Asian scholars to converge and exchange views on major issues concerning the Middle East and its relationship with Asia, the U.S., and the rest of the world.
The 2009 Biannual International Forum on Asia-Middle East Studies has invited scholars with strong interest and specializations in Asia-Middle East relations to present their papers on the following subjects:
Energy and environment
Economy and trade
Cross-regional relations
Social/cultural perspectives
- This is an interdisciplinary conference. Participants will include academics, diplomats, military officers and other interested individuals.
- Registration fee is $ 95.00 and is due by 16 September 2009.
- Registration information for this conference is available at: www.usna.edu/MiddleEast
- Contact:
Transcending Borders: Asia, Middle East, and the Global Community
Center for Middle East and Islamic Studies
U.S. Naval Academy
Annapolis, Maryland USA 21402
Tel.: 1-410-293-2990 Fax: 1-410-293-2994
Email: cmeis@usna.edu
Brannon Wheeler, Director
Center for Middle East and Islamic Studies
107 Maryland Avenue
United States Naval Academy
Annapolis, MD 21402
Anchi Hoh, Assistant to Chief
Asia Division, Library of Congress
101 Independence Ave., SE
Washington, DC 20540-4810
Map Source: http://etc.usf.edu/maps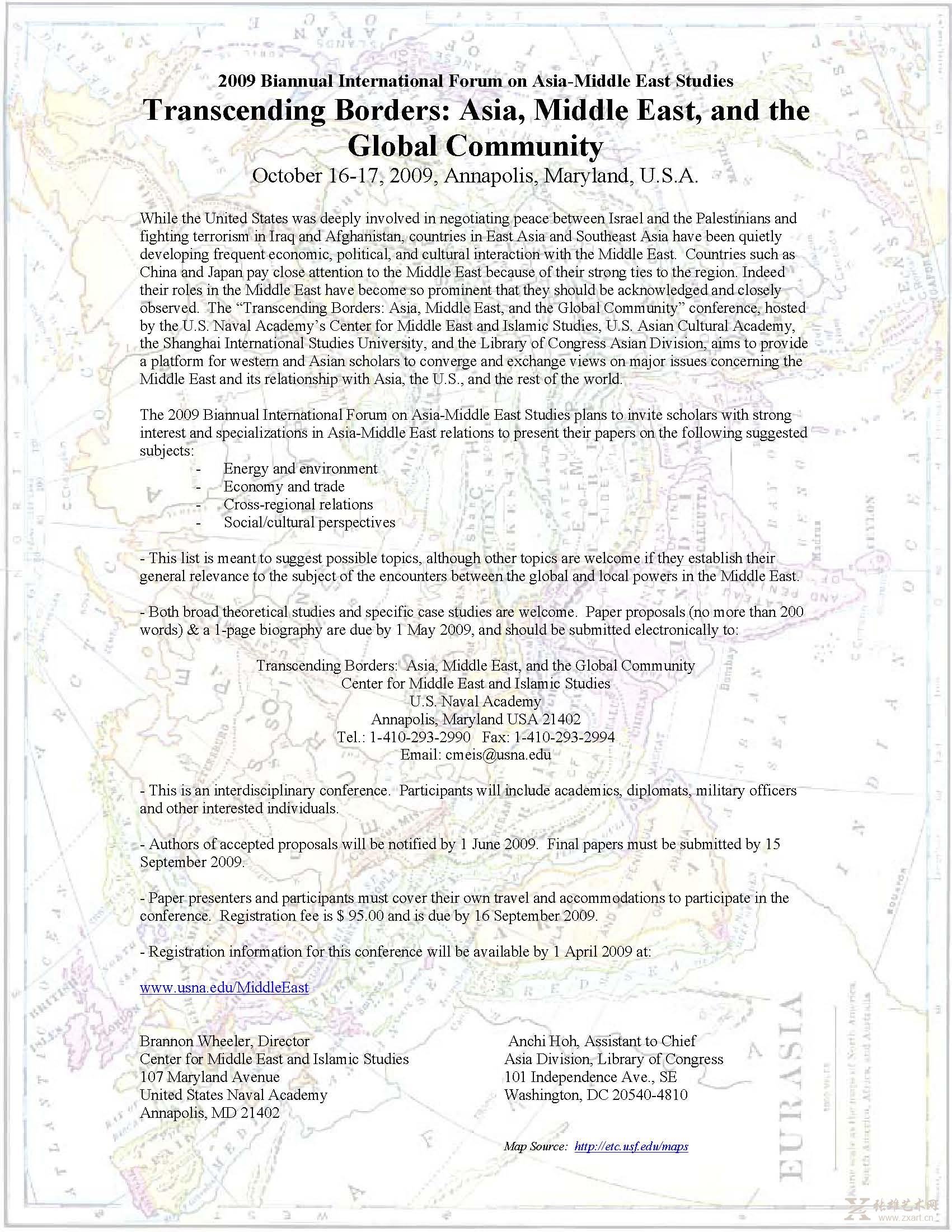 US Asian Cultural Academy
Watergate Office Building, Suite 606
2600 Virginia Avenue, NW
Washington, DC 20037
美国和其他国家及国际组织参会主要代表名单
General Invitees to the Conference
Mucha-Shim Q. Arquiza
Ms. Arquiza is the Secretary General of the Asian Muslim Action Network (AMAN), an Asia-wide network of Muslims working for human rights, peace and social justice through inter-cultural and inter-faith dialogue. She is also the Executive Director and senior researcher for an all-women, mostly-Moroland (an indigenous community in the Philipines) research collective. The aim of the organization (HAGS, Inc.) is to work towards indigenous women's empowerment.
Maria Chin Abdullah
Dr. Abdullah is the Executive Director of the Women's Development Collective (WDC), a non-governmental organization in Malaysia focused on research, education, and training. Established in the early 1980's, WDC's programs focus on gender analysis, worker health and safety, awareness and understanding of Malaysian laws, and leadership and grassroots organizing.
Yoginder Sikand
Dr. Yoginder Sikand is currently a post-doctoral research scholar at the International Institute for the Study of Islam in the Modern World, Leiden, The Netherlands. His research project is 'Islamic Perspectives on Inter-Faith Relations in Contemporary India'. He also edits a web-magazine, Qalandar, that is devoted to a discussion of issues related to Islam and Inter-Faith Relations in South Asia (www.islaminterfaith.org). He has taught Islamic history at the Henry Martyn Institute of Islamic Studies, Hyderabad, India, and has also worked with voluntary agencies in the areas of education and communal harmony. His extensive list of publications includes 4 books, over 30 journal articles and chapters in edited volumes, and over 250 articles in numerous South Asian periodicals and newspapers.
Visit the Qalandar website at www.islaminterfaith.org
Yuri Peshkov
Culture Specialist
UNESCO Almaty Cluster Office
for Kazakhstan, Kyrgyzstan, Tajikistan and Uzbekistan 67, Tole Bi Street 050000, Almaty, Kazakhstan
Tel.: + 7 3272 582639 (1412)
Fax: + 7 3272 794853
www.unesco.kz
Society for Indian Ocean Studies
Add: Secular House
9/1, Institutional Area
New Delhi - 110067
Delhi
Tel: 91-11-26512701 , 11-26968171
Email: sios@del3.vsnl.net.in
Contact: Kishore Kumar
Purpose: Development(General)
Aim/Objective/Mission: SIOS works towards promoting the study of various issues pertaining to the Indian Ocean and the Indian Ocean region in an inter-disciplinary mode. It also undertakes and organises conferences, seminars, lectures and facilitates networking and linkages in order to establish a region of peace and prosperity through trade and other contacts.
Center for South Asian and Indian Ocean Studies
Director: Professor Ayesha Jalal
Department of History
East Hall
Tufts University
Medford, MA 02155
U.S.A
Tel: 617-627-2133
Fax: 617-627-3479
Indian Ocean World Centre
Seminar room and offices
Peterson Hall
3640 McTavish Street, Room 103
Montréal, Quebec, H3A 1X1
Tel: 514.398.3102
Fax: 514.398.8365
E-mail: iowc@mcgill.ca
The International Dunhuang Project
The British Library
96 Euston Road
London NW1 2DB, UK
Tel: +44 (0)20 7412 7319
Fax: +44 (0)20 7412 7641
Email: idp@bl.uk
Gayane Novikova DirectorCenter for Strategic Analysis Spectrum
42Abovian St.
apt. 8aTel:374-10-526239; 374-93-591781Fax:374-10-526239
E-mail:
Gubad Ibadoglu Bayramov
Chairman Economic Research Center (ERC)
Jabbarli 44,
AZ1065,Caspian Plaza bld. III Floor 9Tel: (0099412) 4373230 (ext 115)Fax:
(0099412) 4373240
Email: erc-az@azeurotel.com
Fuad Rasulov
Director CEBRE,
Baku, Shikhlinski st 15,
apt 185Tel: (994 12)
4792109Fax: (994 12) 4989379
Email: frasulov@khazar.org
(Georgia)
Temuri Yakobashvili
Executive Vice President.Georgian Foundation for Strategic and
Interiational Studies
3a Chitadze street Tbilisi 0108
Georgia
Tel:995-32-473555
Fax:995-32-985265
Email: ty@gfsis.org
BS Malik
President (Lieut General, PVSM, AVSM)
Center for Studies in International Relations and Development(CSIRD)4091 Sector "D" Poket "4"
Vasant Kunj New Delhi 110070,India
Tel: 0091-11-26890016,
0091-11-2613-1963
Fax: 0091-11-2613-1963
E-mail: bsmalik@hotmail.com
Rajeev Anantaram
Senior Fellow
Indian Council for Research on International
Ecnomic Relations (ICRIER), New Delhi
Tel: (91-11) 24631253 ext 206Fax:
(91-11) 24620180
Email: ranantaram@icrier.res.in
Anita Sen Gupta
Fellow
Maulana abdul kalam Azad Institute of Asian Studies
5 Mistorylane, Kolkata, 700-919
Tel: (91-33) 24546581
Fax: (91-33)
24862049
E-mail: anitasengupta@hotmail.com
Murat Laumulin
Chief Researcher
The Kazakhstan Institute for Strategic
Studies
Kazakhstan. Almaty, 480100.
Zenkov Str. 78. kv. 29.
Tel: +7/3272/915878
Fax: +7/3272/ 644995
E-mail murat@continent.kz
Fatima KukeevaAl-Farabi
Kazakh National University
Head, Chair of International Relations and Foreign Policy of the PK,
Doctor of Historical
Sciences, Professor
Kazakhstan, Almaty,
Aiteke-bi str. 78-22
Tel:3272-796514
Fax:3272-470969
E-mail: fturar@kazsu.kz
Jaroslav Razumov
Weekly "Panorama"
480096, Mirzoyan Str. 116/67, Almaty,
Kazakhstan
Tel:77272429058
Fax:7727429058
E-mail: y1771@mail.ru
Lessya Karataeva
ProfessorKazakhstan University specializing on the security
issues in Central Asia.
Koktem-1, house15, aprt.9. 050040 Almaty.
Kazakhstan
Tel:+7-7272476367
Email: Lessya@fromru.com
Malik Augan
Associate Professor of the Chair Department
International Relation of Al Farabi Kazakh National University Almaty, Zankova 54#2050010
Kazakhstan
Tel: + 8-0732-72-911030
E-mail: augan@rambler.ru
Batyr Zhulamanov
Interpreter
Almaty, Al Farabi 85 Apt47,000060, Kazakhstan
Tel: 7-701-711-0202
Fax: 7-3272-695022
E-mail: batyrkz@mail.ru
Abaskanov Omurkan
Interpreter(Malaysia)Sulochana Nair Kutiri Raman Nair Associate
Professor Deisgnation Head, Department of Development Studies, Faculty of Economics and Adminstration, University of Malaya Kuala Lumpur
50603Malaysia
Tel: 603 79673723/3750
Fax :603 7567252
E-mail: sulonar@yahoo.com
Mohamed Ariff Executive Director
Malaysian Institute of Economic
Research9thFloor Menara DayabumiJalan Sultan Hishamuddin
50768 Kuala Lunpur Malaysia
Tel:603-22725895
Fax:603-22730197
E-mail: mhmd_ariff@yahoo.com
Rajah Rasiah
Professor,UNIVERSITY OF MALAYA
B0905 KIARAMAS SUTERA 7 JLN DESA
KIARA 50480MONT KIARA KUALA LUMPUR MALAYSIA
Tel:603-79673606
Fax: 603-79673719
E-mail: rajah.rasiah@gmail.com
Stanislav Zhukov
Leading Research Fellow Institute of World Economy and
International Relations, Russian Academy of Sciences Profsoyuznaya Str. 23,
Moscow 117997 Russian
Federation
Tel:0-495-128-56-04
Fax:0-495-120-65-75
E-mail: Zhukov@imemo.ru
Vadim Dubnov
New Times Magazine, Russia 15, bld.2,
Cherniakhovski st. Moscow,
Russia
Tel:(Work)7495-980-87-29(Mob)
7916-121-75-41
Fax:7495-980-87-20
E-mail: vdubnov@yahoo.com
Irina Zviagel'skaia
Senior fellow,Institute of Oriental Studies Moscow
Institute of International Relations9 Namyotkina St. Bl.3, app.192, 117420,
Moscow Tel:+ 7(495) 6245150 Fax:+ 7(495) 6245150
E-mail: zviagel@online.ru
Victoria Panfilova
Head of Commonwealth of Independent States
Independent newspaper Moscow, av. Balaklavsky
36-1-120
Tel:7-916-552-35-90
E-mail: victoria@ng.ru
Anatoly Kosichencko
Professor Home
Address: Zheltoksan 78/86, aprt.22050004
Almaty, Kazakhstan
Tel:+7 7272335496
Email: anatkosichenko@mail.ru
Tan Kim Song
Singapore Management University
School of Economics and Social
Sciences. 90 Stamford Road.Singapore
178903
Tel:65-6828-0854
Fax:65-6828-0833
E-mail: kstan@smu.edu.sg
Boris Rumer
Harvard University
Davis Center for Russian and Eurasian Studies
1730 Cambridge Street,
Cambridge, MA 02138,
USA
Tel:617-787-4318
E-mail: borisrumer@earthlink.net
Farkhad Tolipov
The National University of Uzbekistan Nishan Musayev
str.,12 Tashkent, Uzbeistan
Tel: 9987-1-125-4322
Fax: 9987-1-125-4322
E-mail: Farkhad_tolipov@yahoo.com
Eshkender Trushin
Researcher
Tel: + (9987-1)-138-5951/52
Email: etrushin@worldbank.org
(World Bank)
Migara De Silva
Senior Economist
World Bank
Institute (WBIPR)
Room J4-113
Tel: 202-473-2303
Fax: 202-676-9810
Email: kdesilva@worldbank.org
Sim Yee Lau
Acting Program Advisor
The Sasakawa Pan Asia Fund
The Sasakawa Peace Foundation
The Nippon Foundation Bldg. 4thFloor.
1-2-2 Akasaka, Minato-ku, Tokyo
107-8523
Tel:03-6229-5436
Fax:03-6229-5473
E-mail: lau@spf.or.jp
Akira Matsunaga
Program Officer
The Sasakawa Peace Foundation
The Nippon Foundation Bldg. 4thFloor.
1-2-2 Akasaka, Minato-ku,
Tokyo 107-8523
Tel:03-6229-5445
Fax:03-6229-5473
E-mail: matsunaga@spf.or.jp
M. Rajaretnam
Director
The International Centre,
Goa Dona Paula, Goa, India.
Tel: (91) 832-2452805-810
Fax: (91) 832 2452812
Email: ircenter@pacific.net.sg